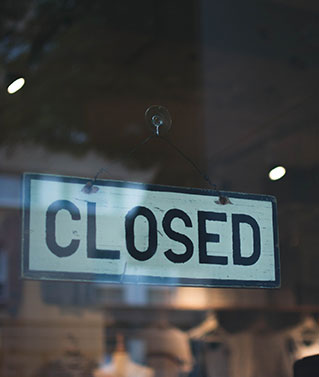 Once a company has served its purpose or is no longer doing business, it is extremely important to legally dissolve it. This needs to be done in the state where the business was incorporated, as well as in any states where the company is qualified to do business.
Until a corporation, LLC, LP or other business entity takes the legal steps necessary to nullify its existence, it continues to be accountable for state compliance and taxation requirements. Once an entity has been legally dissolved or withdrawn at the state level, the company's exposure to such liabilities as state taxes, fines, penalties and interest is eliminated for future tax years.
The entity dissolution process can vary widely from state to state. For example, some states require that a tax clearance certificate be obtained before a "Certificate of Dissolution" or "Certificate of Withdrawal" can be filed. In many states, even choosing which form is needed to file a termination is based on the specific circumstances of the business. Have shares been issued? Who authorized the dissolution? Was consent unanimous? Additionally, the current status of the business entity can have a significant effect on what steps need to be taken prior to filing a dissolution or withdrawal. If the entity is not in good standing with the state due to delinquent filings or taxes, steps will need to be taken to get it back into good standing before the dissolution process can even begin.
Entity termination can be a complex process, but regardless of whether or not you utilized our services to form a business, you can trust Parasec to assist you with its dissolution or withdrawal.
Not sure how to legally dissolve your entity?
Ready to dissolve your corporation or LLC? Not sure what steps need to be taken to make that happen? Let us help. With our entity dissolution/withdrawal research service, we can take the guesswork out of the process. Our team will research the status of the entity and uncover exactly what is needed to dissolve or withdraw in a specific state. We will update you with any extra steps required to legally terminate the entity (filing of an annual report or tax clearance certificate, etc.). We will also supply you with the necessary state forms, based on the specific circumstances of the company. Once you have the required forms, you take it from there!
Want us to handle the entire process?
From start to finish, we make dissolving a company easy! Our team will ensure it is done in accordance with the laws of the states in question. If you elect to have our team handle the entire process, we will:
Alert you if your state requires tax clearance prior to filing a dissolution.
Provide the appropriate forms for your specific situation and state(s).
File your signed documents with the proper state.
Email you with a digital copy of the state-approved dissolution documents.
Mail you the official dissolution documents, if requested.
If you need to dissolve a company, we can help in all 50 states.