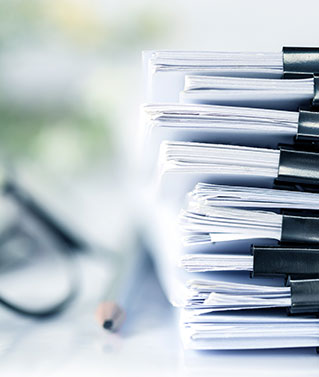 If you're in need of a document that has been filed at the city, county, state or federal level, we can get a copy into your hands! Since we first opened our doors back in 1977, we have made it a goal to offer reliable and expeditious document retrieval services. In that time, we've developed a professional network across the nation—allowing us to navigate the varying agencies and jurisdictional offices so you don't have to. Let our document retrieval specialists use their years of experience and expertise to pull the documents you need, when you need them.
What types of documents can we retrieve?
Certificate of Good Standing: States can refer to this document by a host of different names, including Certificate of Existence and Certificate of Status. Whatever it's called, we make pulling these commonly requested documents a breeze.
Formation & Amendment Documents: Need a copy of a company's formation documents? How about an amendment? Leave it to us!
Miscellaneous State Certificates: Looking for a Certificate of Dissolution, Certificate of Merger, Certificate of Listing, Certificate of Non-Filing—we're the right people for the job.
Real Property Documents: If you need help retrieving copies of real estate documents, look no further. Deeds, mortgages, assignments, reconveyances, fixture filings, and more—our experts have in-depth knowledge of real property documents.
Court Documents: Our team of experts have the ability to pull documents from municipal, county, district, circuit, bankruptcy, state, and federal courts. Let us navigate the cumbersome courthouse systems, so you can focus on more pressing business matters.
Tax Liens & Judgments: We offer county, state and federal-level tax lien and judgment lien searches.
Tax Status Certificate (Letter of Tax Status): If you have a financial or transactional event that requires a tax status certificate, we can obtain it from the Department of Taxation or Department of Revenue on your behalf.
UCCs: We offer county- and state-level UCC searches in all 50 states, as well as the District of Columbia. Furthermore, our third-party searches will give you the best chance to ensure that all possible existing UCCs are located and identified.
Annual Reports: Looking for a copy of an entity's annual report—also referred to as a Statement of Information and biennial report—enlist our help today!
Mechanic's Liens: Also referred to as a supplier's lien, laborer's lien or contractor's lien—we can pull these for you from the county recorder or clerk's office in the county where the property is located.
If the document you're looking for isn't included above; don't fret. Pick up the phone and give us a call—we still might be able to work our magic!
If you need assistance retrieving a document or have any questions, reach out to us today.