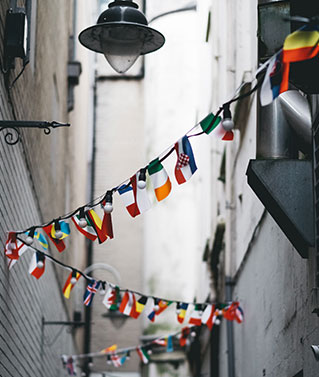 Translation Services
Projects that require international work can often be difficult and time-consuming. One area that we can make easier for you is the translation of documents. Subtle differences in language such as terminology and syntax can prove critical to the translation of your documents and, ultimately, the success of your project. Parasec's long-standing relationship with a national translation company enables us to provide our clients with professional language translation services in more than 240 languages and a variety of industries, including: banking, business, legal, real estate, medical, technology and entertainment.
Given our knowledge and experience assisting clients with apostilles and legalizations, this is a perfect partnership—allowing us to provide our clients with one central place to handle all of their international document needs.
What to expect from our language translation services:
Accurate Translations: Every project—whether small or large—is completed by accredited, experienced translation specialists that are subject-matter experts in their respective fields. Did we mention we also check their references? Well, we do, and they have to be impeccable!
Fast Turnarounds: Whether you are just looking for a quote or have already enlisted our help with your translation project, we understand that getting what you need in a timely manner is a must. Our goal is to always provide expeditious, error-free translations—which is why we also offer rush services for when your project demands an even quicker turnaround time.
Diverse Document Translations: We offer certified translation services in nearly every language for a variety of document types, including business-related documents, lawsuits, technical manuals, vital records, civil documents, medical records, academic records and documents, and more.
Specialized Quotes: Quotes are always handled promptly and provided in writing—but first we'll need you to tell us all about your translation project: required languages, document type, length of the document, whether a certification is needed or not. We also recommend that you provide us with a copy of your document—so we can provide the most accurate quote possible. We're here to ensure the right linguist is matched to your job so that you get the highest quality translation available!
Interpretation Services
We can also assist with interpretation services utilizing language specialists who are fluent and/or certified in numerous languages. These specialists are recognized experts in a variety of fields including the legal, medical, and technical industries. When language barriers exist, our in-person and over-the-phone interpreters are available to help you convey the information you need to with accuracy and consistency. Check with us for both scheduled and last-minute emergency needs.
Let our team of experts simplify your next international transaction! Get started today.