Help your clients keep all their estate planning documents, final arrangements and tax records neatly organized for future use with our professional estate planning kits (also commonly referred to as estate planning binders). Our estate planning kits include the forms and paperwork needed to record all family data, such as family history, asset lists, liability listing, funeral arrangements, and more. Currently available in three styles, each estate planning kit features high-quality construction, attractive detailing and 14 pre-printed index tabs, including:
Personal & Family History
Durable Power of Attorney
Powers of Attorney
Wills
Living Wills
Trust
Financial Assets
and more
Standard Estate Kit: This attractive kit is designed to hold your documents neat and flat—providing less wear and tear on the paper and eliminating unsightly rivets on the spine thanks to easy-to-open, three-ring D-shaped locks. This attractive kit comes with a matching slipcase and is available in black, blue, burgundy, green, and a two-toned burgundy/black, all finished with gold detailing and a brass engraved nameplate affixed to the spine. The black and blue kits are also available with silver detailing and a black engraved nameplate.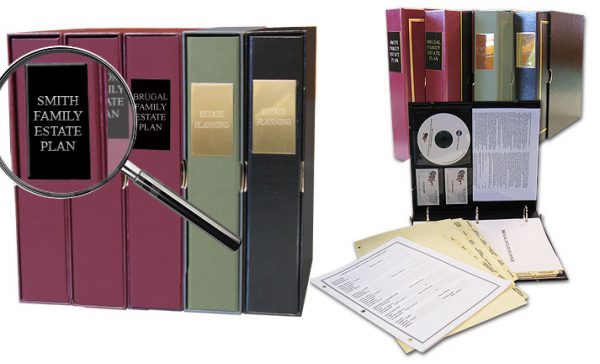 Heavy Duty/Royal Estate Kit: This durable kit has a rugged 1½" three-ring binder with durable metal hinges and a matching slipcase. Features include gold detailing and the estate name hand embossed in gold on the rounded spine. Available in black, green or a two-toned burgundy/black.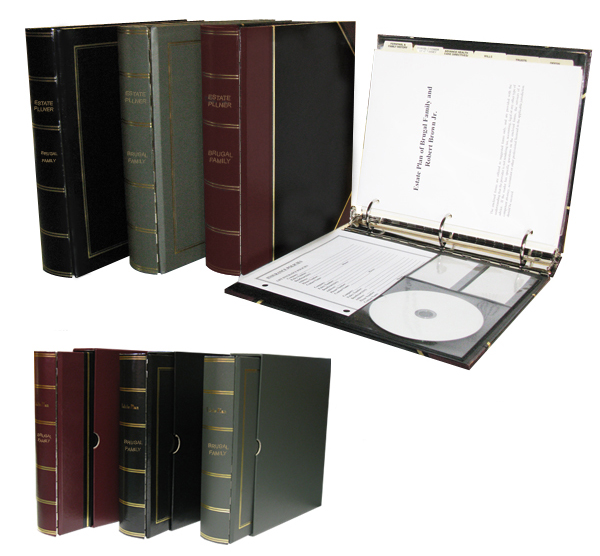 Regal Estate Kit: This elegant leather kit is made for those seeking extra durability, security and style. The estate name is hand embossed in gold on the rounded spine, while the interior features a secure, triple-post binding designed to last a lifetime. Available in black, burgundy and red.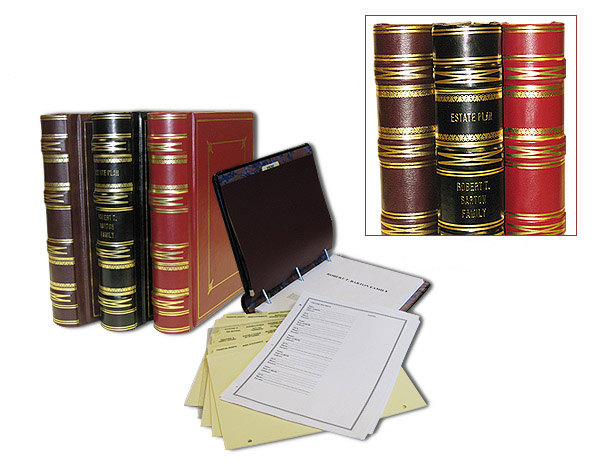 For more information and pricing on any of our estate planning kits, give us a call at 800.533.7272.