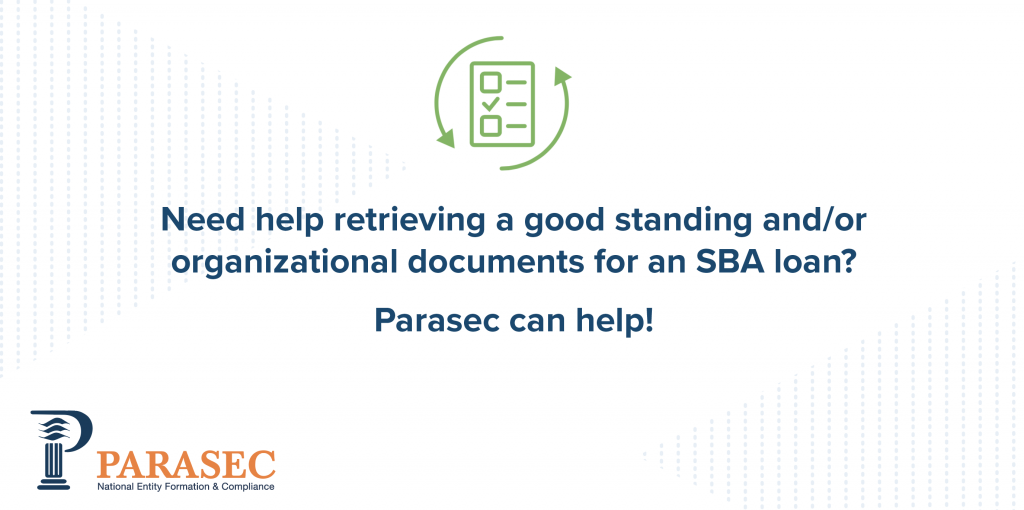 The Coronavirus Aid, Relief, and Economic Security (CARES) Act provides for several programs and initiatives designed to help with economic stabilization during this unprecedented time. Among the programs intended to assist small businesses is the Small Business Administration's Paycheck Protection Program (PPP).
The PPP authorizes up to $349 billion in forgivable loans to small businesses to pay their employees during the COVID-19 crisis. Lenders were able to begin processing loan applications as of April 3, 2020. The program will be available through June 30, 2020. That said, there is a cap on funds available. You may want to submit your application as soon as possible.
Depending on the lender being used, you or your client may be asked to provide a variety of documentation regarding your business entity. From what we've seen, that documentation may include the following items:
– Good standing certificate
– Articles of Incorporation or Articles of Organization
If you need a good standing certificate or a certified copy of formation documents as part of the loan application, we can help.
Please email our team at parasec@parasec.com for assistance. We can also be reached via our "Contact Us" form, which can be found here.

Important Note: Parasec has no involvement with the actual loan process. Therefore, we are not able to offer information or advice regarding the loan process. Hopefully this link to the Small Business Administration's COVID-19 small business guidance loan resources will help: https://www.sba.gov/page/coronavirus-covid-19-small-business-guidance-loan-resources.